Ok, I admit it. Dave Ulrich has been an long time influence, and I am not even educated in HR. But as I have been working in talent management land since 1997 I have come across his name time and again.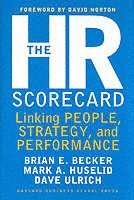 So when I saw a new book I became interested. And its good, no doubt about it. Its written by Dave Ulrich, Brian E. Becker and Mark A. Huselid. And if I should ,summarize it really short its about how HR is to get that seat at the table that has been the buzz for at least 10 years. And the answer is by starting to talk numbers.
Only by developing a system with measurements that can be connected to real money will HR be taken seriously by everyone else. Sounds like something obvious, but what this book does is to tell us how this an be done. It defines the basics, shows how this must be connected to events generating or saving money and also that the connection must be evidenced so that anyone can see and believe it, not just the believers.
By creating a HR scorecard we can get to a point where HR can be measured on bottom line, and rewarded like everyone else.
Along the way they define the competencies in HR and identify a new one and also talk about how to implement it successfully.
For anyone who wanna know how that famous seat is to be claimed  this is a good book. It gives you all the info you need but at the same time leaves up to you to actually do the work in your organization.